BOCA RATON, FLA. & BROOKLYN, NY, JUNE 9, 2023 — REDCON1, the fastest-growing sports nutrition brand, and Junior's Restaurant and Bakery, home of the world's most fabulous cheesecake, have joined forces to offer a new line of cheesecake-inspired healthy protein powder.
The partnership combines Junior's 73 years of cheesecake-making expertise with REDCON1's commitment to premium, great-tasting supplements. 
Inspired by Junior's world-renowned recipes, REDCON1 is excited to introduce the REDCON1 x JUNIOR'S MRE LITE Protein Powder. This sweet, satiating no whey protein makes a smooth delicious rich milkshake-like protein shake that features 24g of protein in each serving.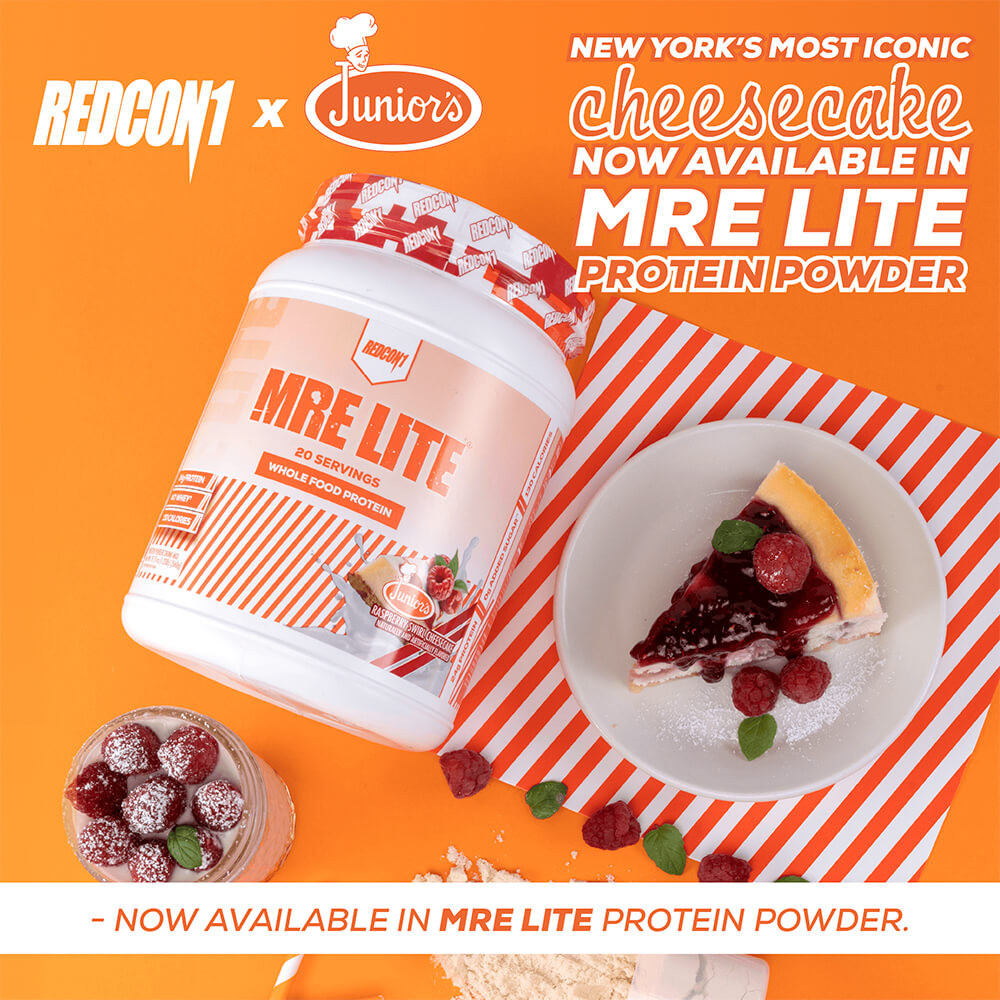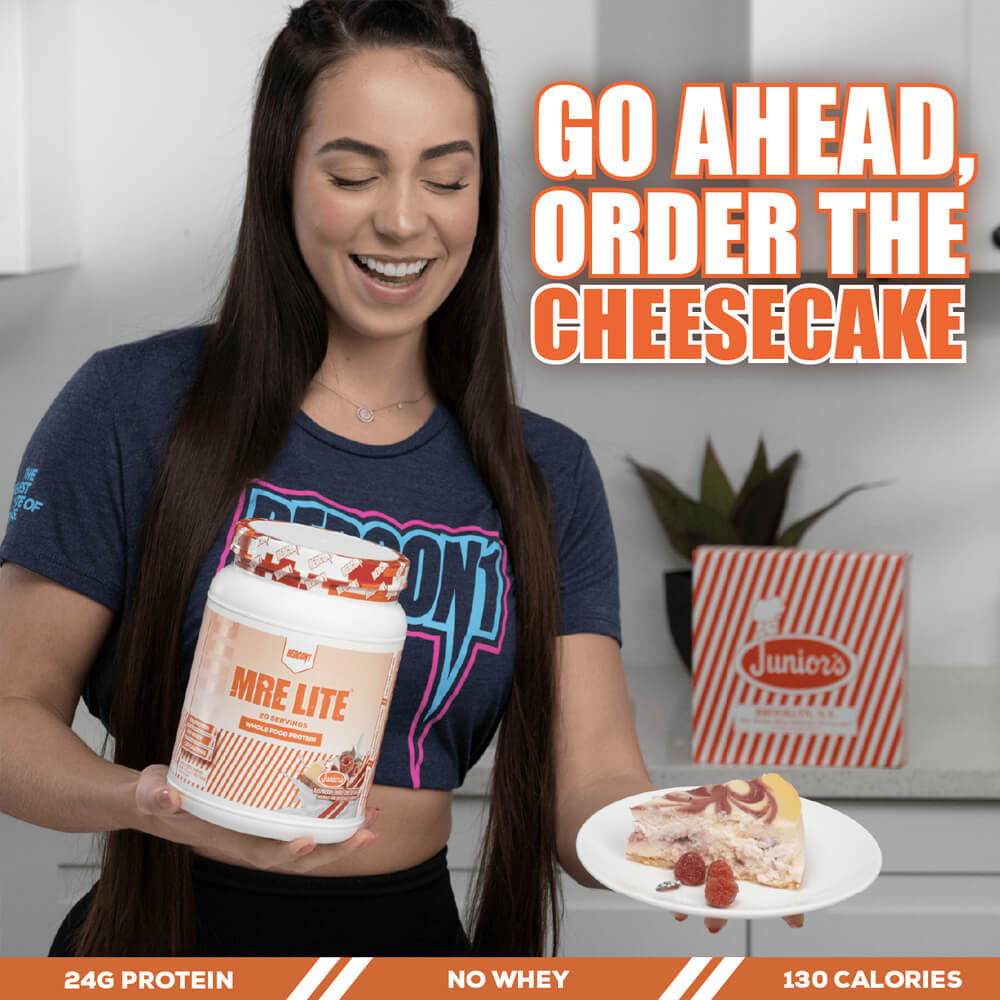 "This collaboration carries quite a significance.  For years, every time my travels have taken me to NYC, I've made it a point to visit Junior's for a slice of their iconic cheesecake," said Aaron Singerman, REDCON1 Founder.  "We're excited to partner with Junior's to offer everyone a delicious way to help fuel their nutrition goals.  We believe Junior's cheesecake-inspired flavors in our best-selling protein powder will be a game-changer."
Junior's cheesecakes are made with premium ingredients and are baked fresh daily. The new line of REDCON1 MRE LITE will come in a variety of flavors, starting with Raspberry Swirl Cheesecake and other seasonal flavors throughout the year.
"Keeping fit will never taste so good," said Alan Rosen, CEO of Junior's.  "Our team has worked hard – even harder than we would at the gym — to develop a product that delivers on taste and nutrition. In fact, it will enable consumers to reward themselves for a great workout with some cheesecake, guilt-free. So we're thrilled to collaborate with REDCON1 to bring our legendary cheesecake flavors to new audiences."
REDCON1 x JUNIOR'S MRE LITE Raspberry Swirl Cheesecake Protein Powder is available now at redcon1.com.
About Junior's
Founded by Harry Rosen in 1950, Junior's landmark restaurant is known as the home of New York's best cheesecake.  Our original location in Brooklyn on Flatbush Avenue is still thriving.  Or you can visit us in some of our more recent landmark additions—in the heart of the theater district on Broadway in Times Square or you can try your luck at outside of New York—at the Fox Tower Hotel at Foxwoods Casino in Connecticut. We recently opened a second location in Times Square on the corner of 49th Street and Broadway.  For additional information, visit juniorscheesecake.com.
About REDCON1
REDCON1 is a mission-based company founded on a simple principle – create the highest quality supplements for people that need to get the most out of their workout and workday.  REDCON1 offers nutritional supplements and apparel that appeal to everyone, from beginners to professional athletes.  Our products feature efficacious formulas while building a brand that stands for transparency, hard work, honesty, and integrity.   For additional information, visit redcon1.com.
Contact
Ryan Monahan
REDCON1, Chief Marketing Officer
ryan@redcon1.com
We're On Instagram
This error message is only visible to WordPress admins
There has been a problem with your Instagram Feed.